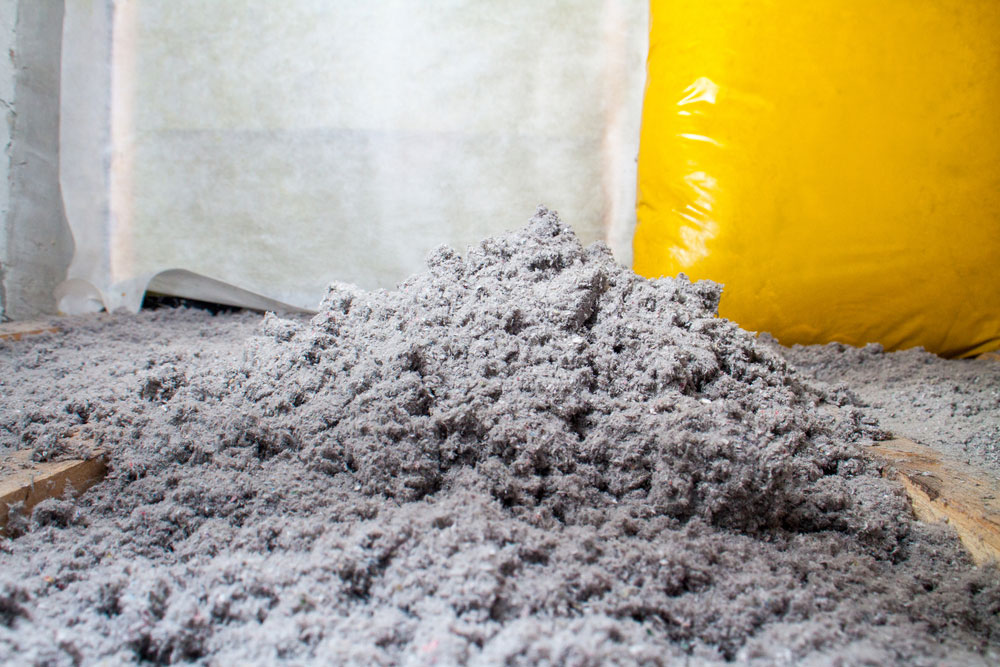 Valley Insulation is one of Cincinnati's top insulation companies for installing blow-in insulation. We've been in business since 1977, and we know a thing or two about residential and commercial insulation.
Our staff answers several FAQs about blow-in insulation. 
What is blow-in insulation?
This type of home insulation refers to thick clumps of thick material filling the gaps in walls and on attic floors to improve heat exchange in your building.
What is blow-in insulation made of?
The best products are made of recycled paper materials, such as newspaper or cardboard. Other materials are made of glass or waste minerals.
Why should I invest in blow-in insulation?
This type of insulation is perfect for attic areas and interior walls with nooks and crannies that are impossible to fill with batt insulation because of the size and shape of the spaces. 
Is blow-in insulation eco-friendly?
Yes, in three ways.
Some home insulation is made of post-consumer recycled newspaper or cardboard, which keeps this type of solid waste out of landfills.

Quality home insulation can save you hundreds or thousands of dollars on your utility bills over the years, depending on how long you own your home. Reduced utility bills can lead to less combustion being used to generate electricity, which reduces carbon emissions.

Some brands of home insulation take ten times less energy to produce than fiberglass batts or rolls, which allows you to reduce carbon emissions even more.
Is blow-in insulation better than rolls or batts?
Yes, because it fills in gaps better and has a higher R-value. Cellulose insulation carries an R-value of 3.8 per inch, while batts and rolls typically have an R-value of 3.2 per inch. This means that the more inches of insulation you add, the better it insulates versus the same thickness of batts or rolls.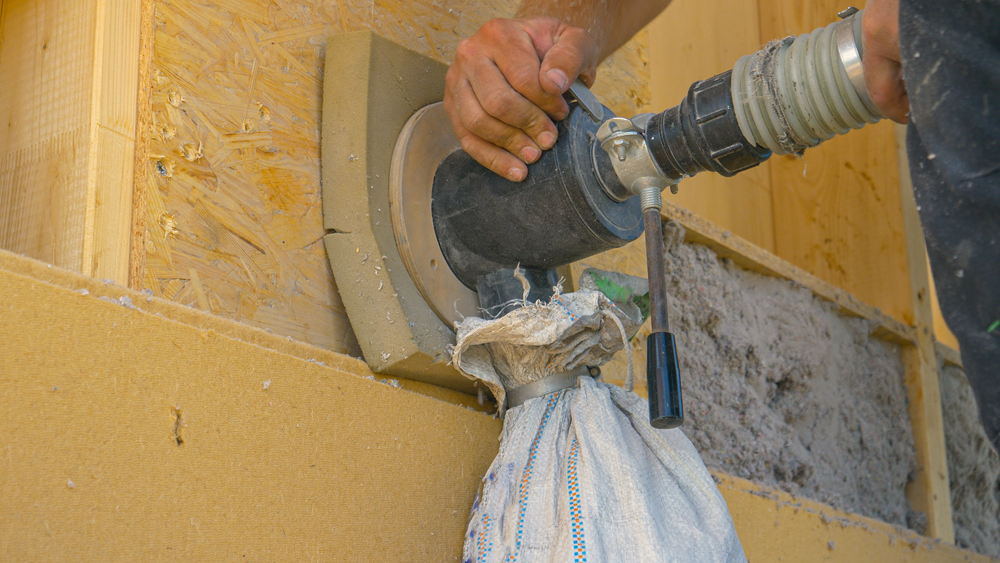 Can insulation be blown into existing walls?
Yes, by using a specific process of drilling holes in walls. 
The process follows these steps:
Home insulation installers will cut a round, 2-½ inch hold towards the top of a wall in between two studs.

Installers hold a flexible tube in each hole while a high-powered blower distributes blow-in insulation into the wall cavity between the studs. This process takes a few minutes in each cavity.

After installation companies complete this process with every wall cavity, they replace the wall cut-outs.

Add a small amount of spackle to cover up the cut made in each wall cavity and dry it thoroughly.

Paint over the wall cut-outs to make it appear as if you never cut into the wall for blow-in insulation.
Blowing insulation into walls offers a great way to insulate your existing residence for exterior walls. Since wall cavities are about 3 inches deep, you'll get around 3 inches of high-quality insulation in the walls.
How long does blow-in insulation last?
Typically, anywhere from 20 to 30 years. It can degrade if moisture, pests, or rodents invade the insulation. However, it can last anywhere from 80 to 100 years under the right conditions. 
How much blow-in insulation do I need in my attic?
The U.S. Department of Energy recommends anywhere from 10 to 14 inches of attic insulation or around R-38. For Greater Cincinnati, experts recommend R-values of anywhere between R-38 and R-60, which is 10 inches to 16 inches of insulation.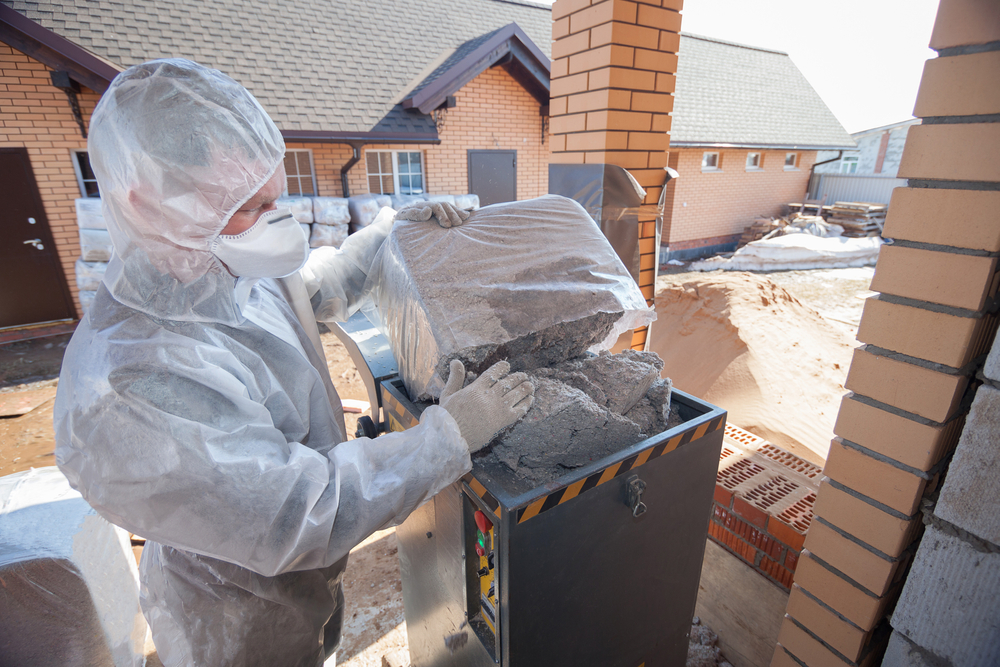 How does an insulation blowing machine work?
Blowing insulation into your home takes some special machinery, but it is a simple process similar to vacuuming only in reverse.
A large machine sits in the back of a truck, similar to a moving truck, allowing installers to feed insulation into the top of the machine. 

Installers unwrap 30-pound packages of insulation before dropping them one at a time into the open-ended top of the machine.

Slow-moving blades at the bottom of the machine turn the insulation to loosen it.

Another set of blades, smaller than the first set, turn in a 90-degree direction from the larger ones. These blades feed into the tube.

A powerful blower then moves the small clumps of blow-in insulation towards your home or business through a very long series of hoses.
Because the blowing machine is large and heavy, professional installers keep the machine in their truck for ease of use. The team might use ladders to access the attic, while several hose lengths make it easy to distribute the insulation. 
What are the best times of year to install blow-in insulation?
Spring and fall represent the two best times to get new insulation for your residential or commercial property. That's because the temperatures are generally mild. Think late September to early November or late March to early May. These times may fill up fast, so book your installation as soon as you know you want to invest in this type of quality insulation.
How much does blow-in insulation cost to install?
On average, homeowners may spend $1 to $1.50 per square foot for home installation and anywhere from $40 to $70 per hour for technicians.
How long does it take to install blow-in insulation?
Most residential projects take around one day to install, depending on the size of the building. Larger projects may take two days, while commercial buildings may need up to a week.
Is blow-in insulation fire-resistant?
Yes, many types of insulation contain borate, which has fire-resistant properties. The best blow-in insulation brands have a Class A fire rating, which is the best rating you can find for reducing the spread of fire. This rating means a type of insulation withstands fire than other classifications.
Does blow-in insulation resist mold and insects?
Yes, thanks to borate compounds added to the insulation during the manufacturing process.
How much borate goes into blow-in insulation?
Up to 20 percent of the weight of each 30-pound block of insulation contains borate.
Is borate safe for humans?
Yes, the U.S. government has certified that borate is safe when used as part of home or commercial insulation.
Does blow-in insulation smell? 
Some brands may have a slight newsprint smell because manufacturers make it out of recycled newspapers.
Who installs blow-in insulation in Greater Cincinnati?
Talk to the experts at Valley Insulation, serving the Greater Cincinnati area since 1977. We'll come to your home, give you a free estimate, and provide you with excellent customer service from start to finish. We promise to answer your questions every step of the way.
 Contact us online or call 513.353.4100 for more information.