Since the needs of each homeowner and home are different, our experienced team will evaluate the energy efficiency of your home and provide a report to you. We will make our recommendation and provide the reasons for our recommendation. Many homeowners are surprised by how one small change can make a huge impact on the energy efficiency and comfort of their home.
Our Services Include:
Attic Insulation

Existing Exterior Wall Insulation

Garage Ceiling Insulation

Crawl Space Insulation
Our homeowners are pleasantly surprised by the efficiency and tidiness of the process. Many times, we can install cellulose insulation by drilling holes into the walls, floors, or ceilings. Once we dense-pack the areas with cellulose, we plug the holes to complete the project. Please call 513.353.4100 or fill out the form to the right to get started.
Existing Wall Insulation | Drill and Blow
We can insulate your existing walls as long as it is a 3 1/2″ cavity and there is not any existing insulation in the cavity.
We start by finding a stud.  Then we measure to the next stud.  We drill a 2 1/2″ hole in the middle of the cavity.  We can do this either on the outside or inside depending on what material is on the outside of your house.
Next, we pack the cavity full using tube methods.  We use cellulose insulation to pack the cavity's tight.  One of our last steps is plugging the wall with either a wood plug or Styrofoam plug.  Valley Insulation does not finish repairing the holes.
If you are interested in making your older home warm and quiet, please call us.
What our clients are saying
My thanks to you, Valley Insulation, for insulating our green, sustainable home with cellulose. I suspected the house was "tight" last summer when there was a man running a rototiller just outside the house and I could hardly hear him. Now we're almost through our first winter here and we've been toasty warm the entire season. From a guy who has a tendency to be overly critical and stingy with praise, thanks for a great product and a job well done. – Barry
Our Work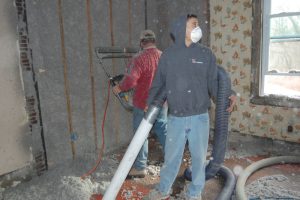 Save
Save
Save